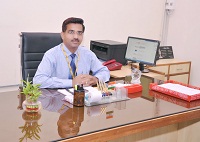 Greetings and a Warm Welcome to one and all at Jai Parkash Mukand lal Innovative Engg. & Tech. Institute (JMIETI), Radaur, Haryana, India. JMIETI, established in the year 2012, is one of the premier institutions of Mukand Group in Northern India. It is a state of art Institution and located in Arcadian, lush green pollution free biosphere of Radaur. The primary aim of the institute is to maintain high standards of technical education to equip the youth of nation to face the tough challenges in the competitive world.
We, at JMIETI, are committed to develop this institute as a unique institution of high and technical education which will produce creative, innovative and devoted engineers, technologists and managers capable of meeting the tough challenges thrown up by globally competitive environment.
We are blessed by the vision and valuable guidance of our Hon'ble Chairman, Sh. Ashok Kumar Ji. The Chairman of the society is managing 28 institutions of Knowledge and services in India. The Board of Governors consists of renowned industrialists, academicians, social workers and top professionals from all walks of like.
The Institution has a team of highly qualified, learned and dedicated faculty with expertise in all major disciplines of engineering and technology, science and management, and is a constant source of inspiration for the students. They are actively involved in raising the standards of our institute by organizing Guest lecturers from corporate world, Industrial visits and Skill based workshops from time to time.
Once again, I wish all the students an outstanding, momentous and valuable stay at JMIETI Radaur and hope that you achieve your destinations/goals and emerge as top-notch engineers, technocrats, scientists or managers.
with best wishes
Prof. Ranjit Singh Chauhan
Director